5 Reasons Playapod is the Best Podcast App

According to Variety "2017 was the biggest year yet for podcasts" and the Playapod team expects the trend to continue in years to come.  As podcasts have become more popular, the number of podcast apps have increased making it difficult to choose the best option.  Our team reviewed the most popular podcasting apps available and discovered 5 major issues based on customer reviews.  Based on this research, we made sure Playapod solved ALL of these issues.  So what issues did we solve?
1.  No Annoying Ads
Podcast listeners want to enjoy their favorite podcasts without distracting ads.  Therefore, Playapod is just saying no to ads, no to pop-ups, no to banners, and no to additional audio ads.  We want you to have the best listening experience possible.
2.  Free Download & No Account Required
Playapod is free to download and use without requiring any form of payment or even needing to create a user account.  You can quickly install, subscribe to your favorite podcasts, and start listening.  Playapod was created for podcast listeners.  If you do create an account, you'll enjoy free cross-platform syncing across all your devices.  Since Playapod is free with a full feature-set, you'll have nothing to lose by giving it a try.
3. Download and Listen Offline
Streaming issues and buffering was a major frustration point among podcast app users.  Many described driving down the road, listening to an episode of their favorite show when suddenly the audio would stop.  Never again!  Playapod allows users to download entire podcasts locally to their device for listening offline.  This makes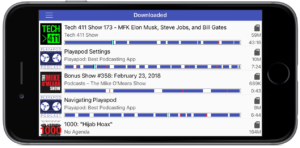 it easy to listen on the go without using your cellular network which can cost you money.
4.  Precision Episode Tracking
Playapod tracks episode playback down to the second.  As a result, the app will never forget where you left off or what you skipped over.  Additionally, the app allows you to bookmark parts of the episode you loved so you can go back and re-listen.  Also, bookmarks are time-coded and cloud synced across all your devices.
5.  Easy to Use
Listening to podcasts is easy with Playapod.  Don't take our word for it, check out the reviews and you'll find comments like "best, simple, easy," "easy to use," and "easy to access my favorite podcasts."  Additionally, we have created a podcast specifically for Playapod which keeps you informed of all the new features.  Our goal has always been to make the app so easy to use that you'll spend more time listening to your podcasts than fumbling with your device.
Above are just a few of the great features that you'll find in Playapod.  Please continue sending us your feedback so we can continue improving the podcast experience.   Download Playapod today, join the "playa" community, and help us make the best podcast app even better!